We recognise that being pain-free is not merely a physical state of being; it brings much more than that. It's often only when we are in pain, that we realize how much those little tasks we can no longer do, really matter. It's preparing that meal to reunite with family and friends, raising your arm and waving across the street for that unspoken salutation to an old friend or simply picking up a child for that tender hug.
Iodex is unwaveringly committed to providing effective, innovative and trustworthy body pain relief solutions, to keep you moving. We are an ally with you every step of the way.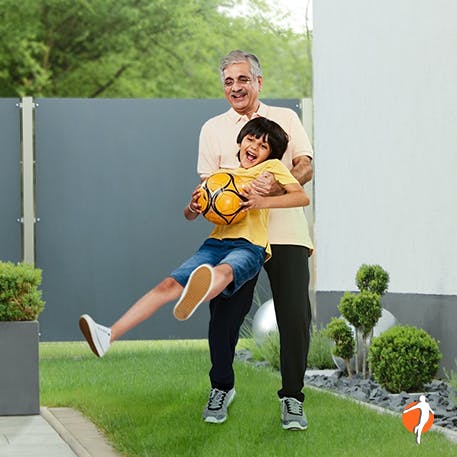 With over 100 years of expertise in providing effective pain relief solutions, we have a unique understanding of body pain and how it affects every person differently. We are constantly innovating to provide effective body pain relief solutions in formats which suit you best!
Originally, we developed a balm that can be applied directly to the point of pain. Since then we have continued to increase the diversity of our pain-relief solutions to better meet everyone's needs and lifestyle. Our range now includes Iodex Multi-Purpose Pain Relief Balm, UltraGel and Rapid Action Spray.
Our expertise
We work with pain specialists to develop science-led pain relief solutions for you. We don't just relieve pain with our Iodex products, we innovate new solutions that fit seamlessly into your life, so you don't have to give pain a second thought.
The GSK Global Pain Index is an in-depth global study into physical pain and its impact on people's lives. The results suggest that pain remains a problem for over 92% of adults worldwide – with 86% experiencing body pain.1 We endeavour to ensure that those numbers go down.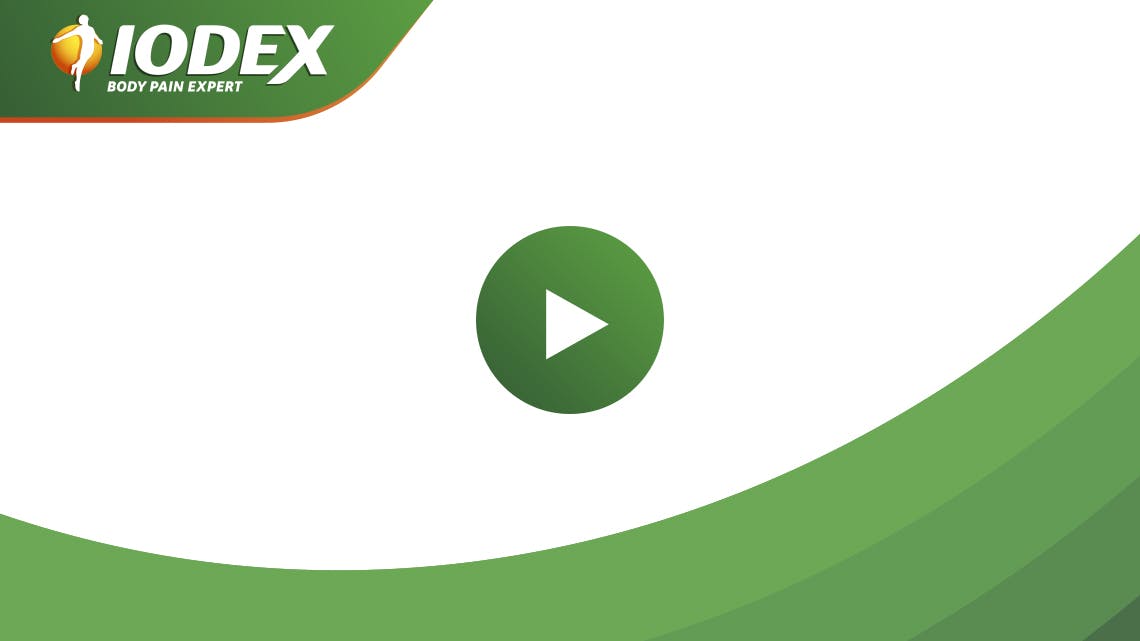 We know that pain is so much more than a physical sensation. It is emotional, mental, and touches so many aspects of our lives. Our approach to creating content for you rests on this knowledge. We address your

holistic health when it comes to pain management

– how you eat, how you sleep, how you move, how you speak to your doctor – all on top of our range of products to target your pain. And we have experts on board weighing it in and reviewing it all.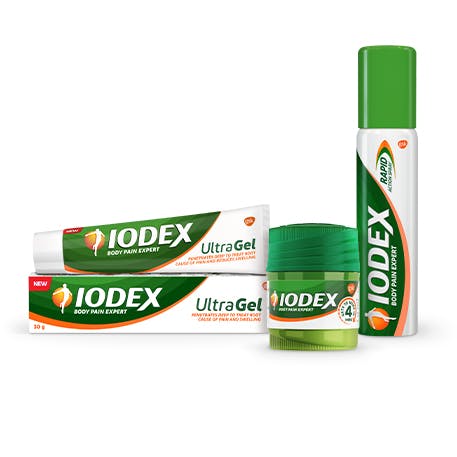 The iconic Multi-Purpose Balm contains 5 active ingredients: Indian Wintergreen, Clove Oil, Menthol, Eucalyptus Oil and Turpentine Oil. These ingredients are known for their analgesic and anti-inflammatory properties. In fact, Iodex Balm gets to work in 4 minutes or less.
Iodex UltraGel uses the same formulation as its global counterparts Voltaren and Voltarol, the #1 chosen body pain relief brand in the world2 and also the #1 most trusted and recommended brand among healthcare professionals; and our products are clinically proven.
The active ingredient in Iodex UltraGel is diclofenac. Dicloflenac is a powerful nonsteroidal anti-inflammatory (NSAID) which inhibits chemicals that signal to your brain that you're in pain. The diclofenac in Iodex UltraGel works by penetrating deep through the skin, relieving pain and reducing inflammation directly at the source.
Iodex Rapid Action Spray is another offering from the House of Iodex for on-the-go relief. Its power-packed formula helps reduce internal inflammation and treats pain at its root.
We aim to make your life better with the best science has to offer – and a whole lot of caring, because we recognize that pain is not just physical. It is emotional and mental as well. We strive to be your trusted, go-to resource for body pain related information – whether it's tips for how to get a good night's sleep, how to talk to your doctor, how often to use Iodex products, or even how to stretch out your back and keep moving!