Foot pain treatment and ankle pain treatment are paramount if you find yourself with sore, achy, or painful feet. Our feet and ankles put in a lot of work for us on a daily basis. And pain in our feet and ankles can really keep us from doing the things we love. Here are some handy tips and tricks on how to get rid of foot pain.
We all experience it from time to time. You've been on your feet for too long or you didn't see that divot in the lawn and you twisted your ankle. Foot and ankle pain can be caused by something as simple as shoes that don't fit to something that needs medical attention, like a sprain or fracture. Foot problems can also stem from systemic illnesses like diabetes, gout, or joint pain from Osteoarthritis.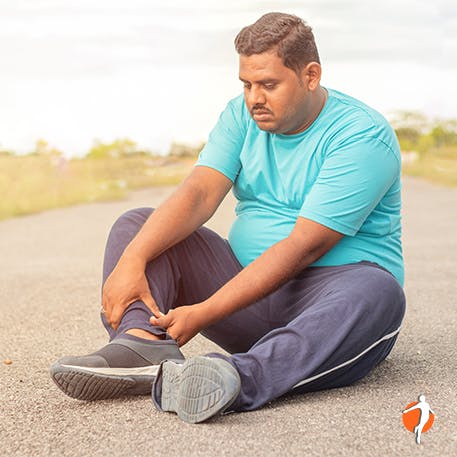 While they can often be treated at home, sometimes foot and ankle pain require medical attention. When to see a doctor:
If the pain is getting noticeably worse

If you notice changes to the colour of your skin, such as turning blueish or black

If you notice progressive changes to the shape of your foot

If you notice signs of infection, like swelling and warmth when touched

If you cannot bear any weight on your foot
Non-steroidal anti-inflammatory drugs (NSAIDS) like Iodex UltraGel are helpful in reducing pain, fighting off inflammation, speeding recovery from pain10,11. You can read more below about when Iodex UltraGel might be the right solution for your pain.
Painkillers such as paracetamol can reduce pain.
In cases of persistent foot and ankle pain, your doctor may prescribe steroid injections. They can help alleviate inflamed tendons – as in case of plantar fasciitis, for instance – and painful joints – as in the case Osteoarthritis in the foot or ankle.1 These should be administered by a medical doctor.
If your foot or ankle is broken, you may need a cast or splint. They help immobilize your foot or ankle while the broken bone is healing. This ensures that the bone fuses in the proper position that it was set in. Once removing the cast, your doctor may prescribe you a brace as a transitional device before jumping straight back in to cast-free living. You may go directly to a brace, foregoing a cast, if you simply sprain your ankle and no bones are broken.
Surgery is sometimes recommended to correct mechanical problems in the feet. These can include things like bunions or hammer toes, for instance. Foot surgery for pain relief usually involves repositioning and resetting the joints and bones of the feet into their correct positions.2
Home remedies for foot and ankle pain
RICE
RICE is one of the most straightforward home remedies for ankle pain and foot pain. RICE stands for rest, ice, compression, and elevation. It is the first basic step of recovering from an acute musculoskeletal injury. It can relieve swelling, reduce inflammation, and promote healing.3 Here's how to do it: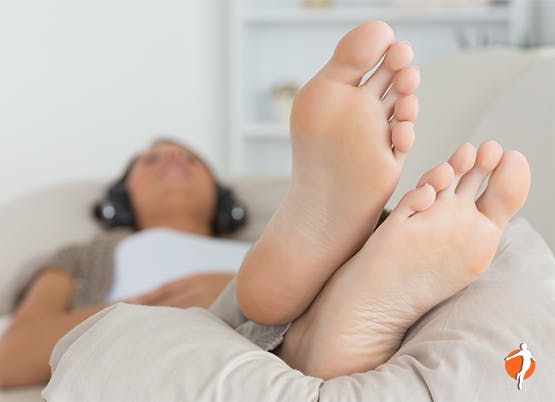 Rest
Rest is necessary for tissue repair. Continued weight bearing and movement can impede healing. Get comfortable and get ready to stay sitting or lying down for the first few days after a foot or ankle injury.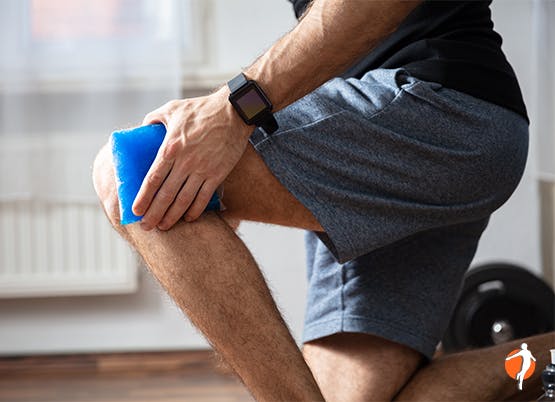 Ice
Cold can be helpful in reducing acute pain and inflammation in the first few days after an injury. Apply an ice pack or bag of ice (or even a bag of frozen veggies will work!) to your foot or ankle throughout the day. Never apply an ice pack directly to your skin. Instead, wrap it in a thin towel and then place it on your foot or ankle, for around 20 minutes, 4 or more times per day.4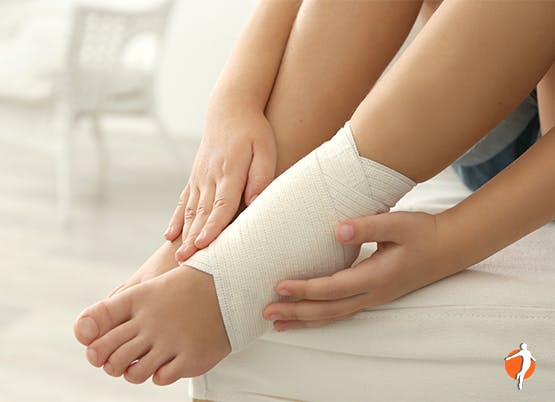 Compression
Compression can help reduce swelling. Consider carefully wrapping your foot or ankle with an elastic bandage. A word of caution – be sure not to wrap the bandage too tight or apply excessive compression, as this can interfere with blood circulation. That would be no good.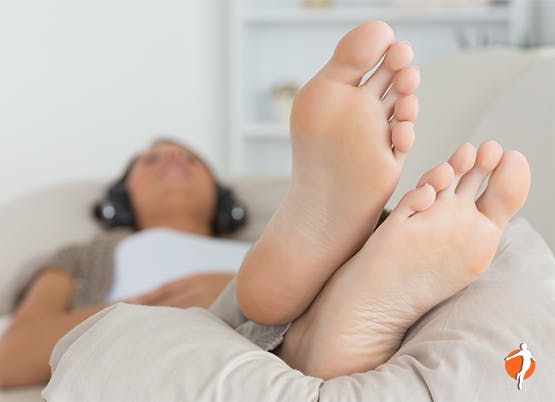 Elevation
Elevation also helps reduce swelling. Elevate your foot while resting for a foot pain remedy with a touch of relaxation, too.
If you're still in acute pain after 3 days, see a health care professional.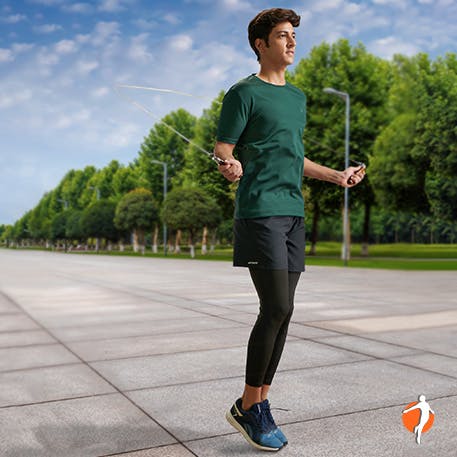 Well-fitting shoes
A fairly straightforward foot pain remedy, a well-fitting pair of shoes can go a long way in both reducing and preventing foot pain. We've all done it. Squeezing our feet into a too-tight pair of shoes because they go with our outfit may feel like the right decision for making an impression, but it's no good for our feet. Instead, wear shoes that fit. For instance, find a shoe with a toe box big enough to accommodate your toes without crowding. And it's not only about fit. You'll want to make sure your shoes provide proper support, too. This means arch-support, and shoes that provide cushioning between the bottom of your foot and the ground.5
Orthotics
Also known as insoles, orthotics can help correct biomechanical misalignments in your feet where they exist. Such misalignments can affect how you walk, run, or stand.6 They can be an effective ankle and foot pain remedy. There are two main types of orthotics:7
- First are orthotics that can be purchased over the counter at your pharmacy. Some can be purchased off the shelf, whereas others are recommended by shape or type based on a foot scan performed at the store. These may be suitable if you are of average height and weight, and have generic foot pain, such as arch soreness.
- Custom prescription orthotics, on the other hand, are measured and ordered for you by a healthcare professional following a thorough medical examination and history.
Stretches and strengthening exercises
Daily foot and ankle stretches can help alleviate foot and ankle pain as well as prevent future discomfort or injury. All they require is a small commitment on your part to set aside time every day for this foot and ankle pain home remedy. Ailments like flat feet or plantar fasciitis benefit from foot stretches. In the case of plantar fasciitis, stretching your feet before you get out of bed in the morning can lessen some of that first-thing-in-the-morning tenderness.
One of the best exercises for foot health: walking!8 That's because walking puts your foot through its full range of motion. Of course, do what you can. So, lace up your runners and go for a walk around the block. Added bonus: aerobic exercise can get your mood-boosting endorphins pumping, too.9 Side effect: smiling a lot.

Iodex products for foot and ankle pain relief
Well, here's some good news. You can use Iodex for ankle pain to get you back moving with joy again. Iodex products for ankle pain treatment include:
Iodex UltraGel

Iodex Rapid Action Pain Relief Spray

Iodex Multi-Purpose Pain Relief Balm
Iodex UltraGel is indicated for soft tissue injuries (that's when you injure tendons, ligaments, muscles, and joints) – such as sprains or strains
Whether it's from joint pain, muscle pain, or a sprain, Iodex UltraGel works by delivering a dose of dicloflenac, a potent non-steroidal anti-inflammatory (NSAID), for triple action relief:
Relieve pain

Reduce inflammation

Speed recovery10,11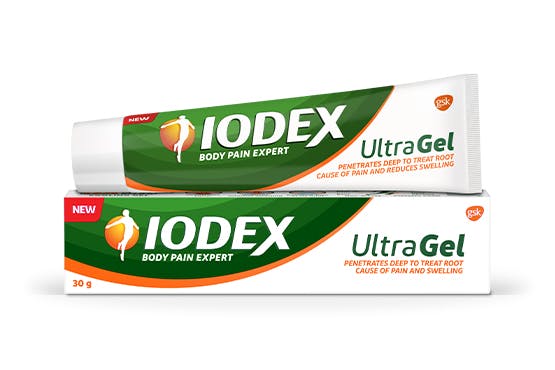 Iodex UltraGel
Iodex UltraGel is clinically proven to shorten recovery time10 and provide targeted relief from pain. Reason for pain generally is internal inflammation of muscles.10 Iodex UltraGel contains diclofenac, which works by reducing chemicals in your body that cause inflammation. Its Emulgel technology helps the gel to penetrate deep through the skin to enhance delivery of the active ingredient, diclofenac, to the site of pain and swelling, making it an effective pain reliever for ankle pain.10 Iodex UltraGel's Emulgel formulation allows it to permeate the skin 7 times deeper,11 thus treating the pain at its root. Gently massage the gel onto the skin of affected area, it penetrates and provides additional cooling and soothing effect at the site of pain and inflammation.
Explore Iodex's products for pain relief
Health, wellness & your pain
Pain is rarely just physical nor is it always solved by taking medicine alone. Iodex is your ally in helping you take more control of your pain journey, from the way to sleep, to what you eat, mental wellbeing and complementary pain relief therapies.